Day 3 at GTC was awesome. It was super hard to narrow down our list to just 7 highlights. For instance, the stress ball pyramid in our booth does not count. Neither does the massive ArrayFire poster in front of the keynote hall.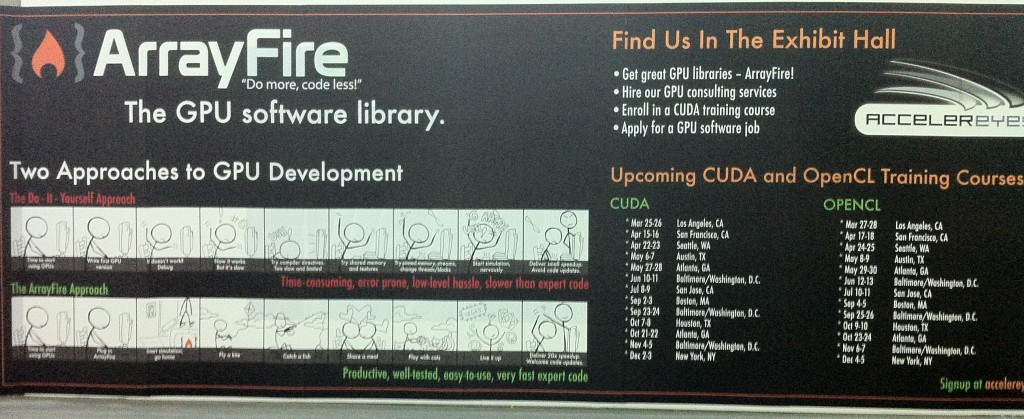 Here are 7 of the highlights we've collected from our team on the third day of GTC 2013:
Professor Erez Lieberman Aiden of Baylor and Rice Universities gave a great keynote on "Parallel Processing of the Genomes, by the Genomes and for the Genomes." He discussed how folding of genes and interactions between multiple folded genes can impact genetic expressions. It's not just about the composition of the gene, but also how the gene folds. It turns out that Professor Aiden saw us pitch our company shortly after our founding back in 2007. We've both come a long way with GPUs since those days!
Awesome exhibit floor demos:
Brian Cabral of NVIDIA gave a great talk on "Tegra 4 Computational Photography Architecture and Always-on HDR." Chimera looks like a great package for making computational photography easier. We have several photographers in AccelerEyes; so you will see some related functions in ArrayFire soon!
Kevin Tubbs of Dell gave a great talk on "Accelerating Shallow Water Flow and Mass Transport Using Lattice Boltzmann Methods on GPUs," using AccelerEyes libraries. There is a related example in ArrayFire.
Several of our engineers walked away impressed by a discussion with Kronos group members. Open standards are valuable to helping many of our customers and make a big impact on moving the industry forward.
Great meetings – the day was full of customer meetings at various tables throughout the venue. Wonderful to meet in-person with all these cutting edge scientists, engineers, and financial analysts.
Casino Night Party – while almost all of us quickly lost the free, fake casino money, one of our team members raked in the winnings at the poker table and walked away with a $100 prize! Some of the rest of us drowned our sorrows in free booze.
Another excellent day. We look forward to the finale tomorrow.
What highlights did you enjoy the third day at GTC 2013?