Day 2 at GTC was high energy. The after parties are still thumping. It was a hive of GPU activity.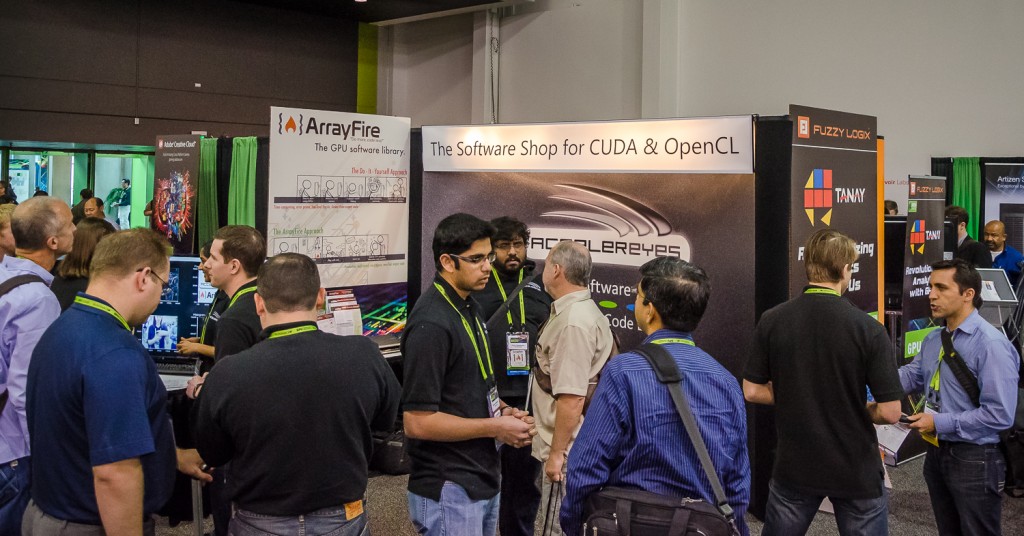 Here are 7 of the highlights we've collected from our team on the second day of GTC 2013:
Jen-Hsun Huang of NVIDIA gave an awesome keynote. He covered 5 topics:

GPU computing update – 1.6 million CUDA downloads so far, tons of interesting GPU-accelerated applications (including matchmaking website fish.com, a diamond cutting company, Shazam, Cortexica, and others), roadmap update (see the next highlight)
Tegra roadmap update – (see the 3rd highlight)
Remote graphics update – using GPUs to render things remotely and pipe them to the monitors of user's thin clients
NVIDIA GRID VCA product announcement – NVIDIA will sell their own 4U system with GPUs for visual computing applications

Tesla Roadmap – it was unveiled. Maxwell architecture is next with unified memory. Volta will come afterward with stacked DRAM.
Tegra Roadmap – it was unveiled. CUDA will be supported on the next Tegra release, codenamed "Logan," and will have a Kepler GPU. Starting immediately, a dev system (Logan's twin sister), called "Kayla," will be available to help people start developing applications for Logan. Parker comes after Logan and will have a Denver CPU and a Maxwell GPU.
Exhibits – Awesome conversations. Great food. Tons of people using ArrayFire!
Igor Podladtchiko of Spectraseis.com gave an awesome talk on "Memory Bound Wave Propagation at Hardware Limit." He discussed his approach to optimizing some wave propagation kernels, implementing a number of three-dimensional differential equations modeling wave propagation in solids. He was clear and helpful in style and content, and we thoroughly enjoyed the talk.
Neil Trevett of NVIDIA and Khronos gave a great talk on "Khronos Open API Standards – The Foundation for Mobile Innovation." Most people would think a standards talk would be quite boring, but our team walked away impressed.
Yuan Lin of NVIDIA gave a nice talk on "Building Accelerated DSLs and GPU Compilers with libNVVM." We love anything to do with high-productivity performance from GPUs!
Another awesome day. We look forward to more tomorrow, followed by relaxation in the NVIDIA casino with fake money.
What highlights did you enjoy the second day at GTC 2013?
Related articles