Kepler is here.  And it's fantastic!
The news came out today that the first Kepler GPU, the GeForce GTX 680, has been launched.  A single GPU has 1,536 CUDA Cores.  This means that those high-end workstations with 8 PCIe slots will be able to pack 12,288 CUDA cores into a single computer.  That's some serious computational power.
Current high-end Fermi cards have 512 cores, so this new Kepler architecture boasts 3X the number of computation cores.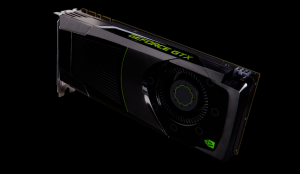 Normally we focus on the higher-end Tesla products because those more aptly fit the needs of our science, engineering, and financial computing readers.  But we are excited nonetheless by this GeForce GPU.  It is a major step forward in GPU technology.  And this GeForce card portends great stuff for the technical-computing-focused Tesla revamp due out later this year.
As @codedivine points out on Twitter, "The only disappointment is that FP64 rate is very poor at 1/24 of FP32."  So we look forward to the Tesla parts boosting the relative double-precision allocation for compute purposes.
A whitepaper describing the new GeForce card is available for download.  The default version comes with 2GB of memory.  Also, a big emphasis was placed on making it lower power.  These specs, combined with the big leap forward in computation cores, makes this a big day indeed for GPU computing.