"Great businesses have a point of view, not just a product or service." ~37 Signals
At AccelerEyes, our point of view is that GPU software can and should deliver great results on real applications.
With this point of view, we've kept our heads down solely focused on delivering a great runtime system for GPUs. All our energy has been devoted to the task of emitting optimized low-level code from high-level matrix notation. These efforts are now paying off in a big way!  Jacket is consistently delivering awesome results in real applications, read examples here and here.
Alternative choices apparently have a different point of view.  Yesterday's twitter stream contained a comical, but all-to-common indication of frustration with the recent GPU offering made available with PCT.  The image below is a screenshot of Bichoy Waguih's live tweeting of frustration using PCT for GPU computing.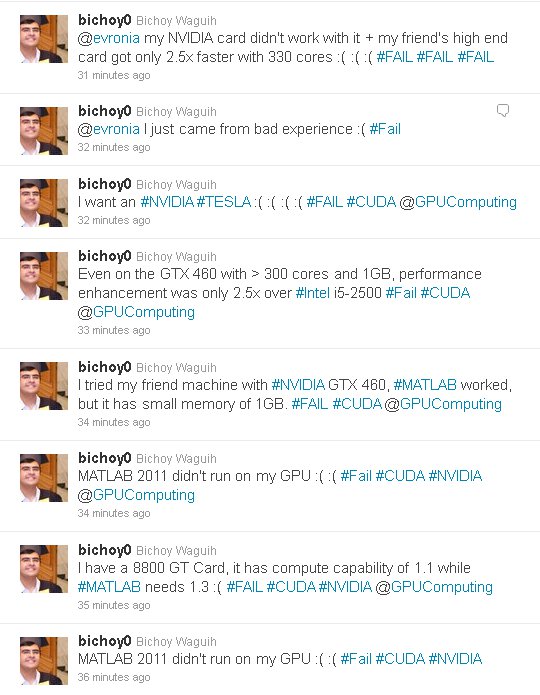 It's unfortunate that Bichoy's first encounter with GPU computing left a bad taste in his mouth, especially when it was not CUDA's fault.
We recommend that anyone interested in GPU computing seriously consider giving Jacket a try.  Driven by our point of view, we have crafted Jacket to uniquely deliver critical GPU computing innovations that are simply better than alternative choices.  Learn more about how Jacket compares to PCT, here.